18+ Online Erotica Sites Like Literotica! I Bet You'll Love Reading Them.
January 30th, 2019 by AlvinTertz
Literotica: What Is Literotica?
Do you want something different? Literotica is an adult website where you can read erotic stories and articles sent by the users.
You will find stories in all categories, which are listed on the homepage. Homosexuality, Fetishism, Mature among others with also taboo topics like incest … The number of stories in each category is noted, and there are thousands. If you like to write, you can send your own stories, and you can also vote for the different stories.
If you are looking for something extra, there is also a forum and a live chat so you can interact with others. A good site, and completely free!
Pros Of Literotica's
Free erotic stories
Categories
Cons Of Literotica's
Site Like Literotica
18. BDSMcafe
17. NovelTrove
16. BDSMLibrary
15. MCStories
14. FictionMania
13. IndianSexStories
12. Adult-FanFiction
11. StoriesOnline
10. xHamster/Stories
9. LushStories
8. Chyoa
7. TheKristenArchives
6. SexStories
5. ASSTR
4. Nifty
3. History-Erotic
2. Stories-Of-Gender
1. XStory-EN
BDSMcafe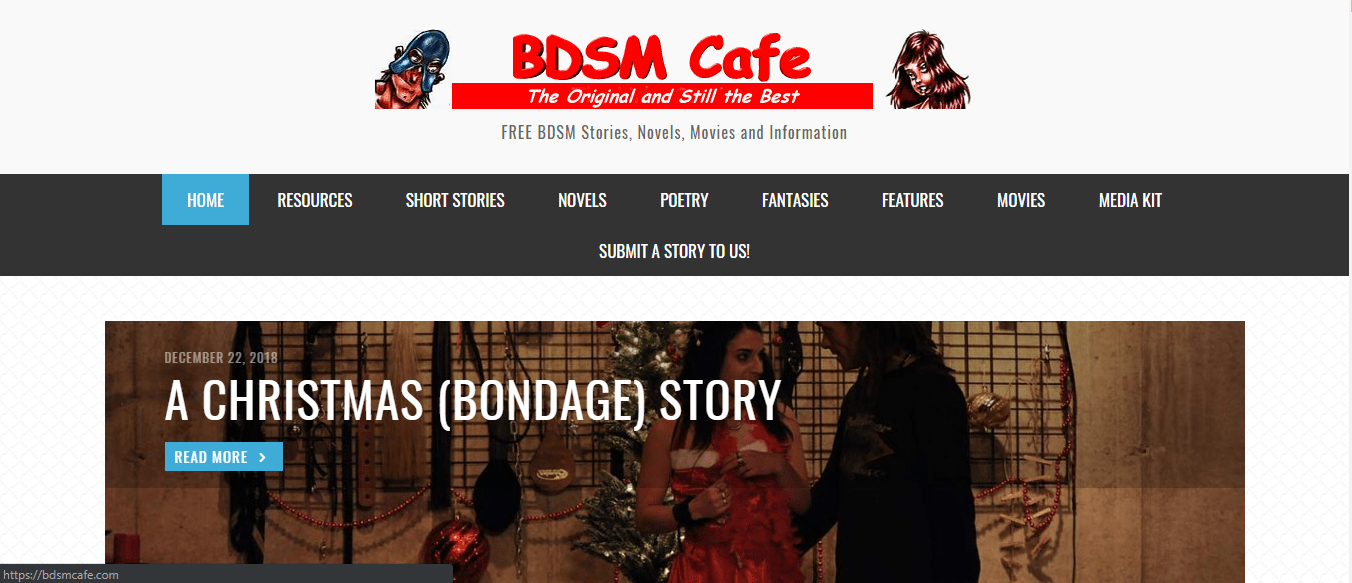 With "Fifty Shades of Grey" the "Sado-maso" (Sadomasochism) side has returned to the forefront and very popular in eroticism. If you are looking for online erotica stories, you will be thrilled with this site.
The design is modern with short stories, news, added regularly. It is very easy to use, and you will quickly find the desired content (in English).
When you click on a story it will load in your browser, there is no option to download it, but you can make a simple copy/paste to save it in Word (or other) and print it. Tags are available on the right to filter the stories.
Pros of BDSMcafe
Free Sado-maso erotic stories which you rarely find in Literotica.
Short stories & messages.
Cons of BDSMcafe
NovelTrove
Well, we used to see some erotic books on the shelves of bookstores, but have you ever read some of these erotic stories online? The era of books is probably over, and the internet replaces old grimoires. Your evenings will not have the smell of ink, but that of eroticism online. As a result, noveltrove has created this website to help you read the best erotic stories like Literotica.
Noveltrove.com is one of the best sites like, and it invites you to travel to a world of sex, love, fantasies, desire, and lust. There is no advertising, and you can send your own texts if you are a good writer. It seems they have stories in all possible niches: anal, swinging, mature, Sado-maso or lesbian. The latest stories can be found directly on the home page, and there are competitions that you can enter to show your talent.
The navigation bar provides links for stories and to see the authors. It's free, and the design of Noveltrove is very, and it sticks very well to the theme of the site. Last thing: If you win a contest, you earn money. The proper technique to get a little money.
Pros of NovelTrove
Competition with prizes
No ads
Free
Cons of NovelTrove
Users wants to see, not to read
BDSMLibrary
If you like online erotic stories, then you will love BDSM Library. It is filled with stories focused on different fetishes like literotica.com
When you land on the site, you will see the latest stories added. You can click on it and read it entirely or in different parts. There are no categories, but you can read the top rated, most popular and most extended stories.
The website contains not more than Sado-mado stories, but if it's your cam then this is the perfect place!
Pros of BDSMLibrary
Cons of BDSMLibrary
Advertising banners
Popups
MCStories
In the field of Literotica stories, I think that one of the most underrated aspects is the world of erotic stories. For this reason, I present you MCStories.com which proposes a superb archive of stories and erotic texts to read. If you think that "Fifty Shades of Grey" is the only erotic book, think twice.
MCStories has forbidden stories, that is things, fantasies that authors will never do in real life but dare to put on paper. Of course, be careful, it is only to distract oneself, it is necessary that morals remain safe.
Stories are categorized with titles, authors, categories, and site owner choices. There are about 10,000 stories so if you like that you'll have something to do. And according to us, this is the best alternative for www.literotica.com.
Pros of MCStories
Cons of MCStories
FictionMania
Many sites offer erotica content, and the first thing they will show you is a "Warning" page that usually looks crappy, while the whole site looks good. That's exactly what I thought would happen once I visited the fictionmania.tv website, because their warning page was a hell of a mess.
However, this website did not update. When I opened it, everything stayed the same. When I say that the design of the site is simple and easy, I mean this site gives me the impression that I woke up in the '90s, or even when MySpace was actually a thing.
Also, keep in mind that this site presents itself as a totally transgender site with a lot of stories and erotic images. So, if you were looking for sites like Literotica, I'm happy to tell you that you will not find it here because all the erotic stories are lit up enough; as much as I have explored them.
I had to talk to you about design because I'm sure you'd be wrong on this site for a crap announcement or something like that because that's exactly what this place looks like. I feel that they have hired a novice programmer who just graduated from school to finish designing their site. I'm sorry, but I can not say that this site existed in 2019.
After leaving my bag, I feel much better!
The first tab, titled "Fictionmania", should be pretty straightforward, do not you think? Basically, you will have here thousands of detailed fictional stories always featuring a hot transgender person! I mean, everything on this site will feature a sexy tranny, so I think there is no point in repeating it now.
If you have questions or would like to talk to other users, you can visit the 'Message Board' tab that allows you to do this. You can discuss everything about ladyboys, story ideas, and new stories or even make constructive criticism about different stories that could help writers improve. However, be sure to read the rules and on this section first.
You can become a member of their community, which means that publishing and all this will be easier for you, whereas if you want to publish as a non-registered person, everything will be much slower. Honestly, if you are going to visit this site a lot, why in fact you would not make your registration? This process is free and fairly simple, but I suggest you read their rules before creating the account.
Once you become a member, you can start exploring the "New Stories" section, for obvious reasons. In addition, for those who have a particular unreasonable taste for such stories, be sure to open the 'search' part of the site, because there you will have some options to list.
There is a "categories" tab in this section, but it does not work as everyone wants. You get the categories, but if you want to see the stories in this particular section, you will have to search for it by the date
Now, another confusing part of the site is the 'Title Images' … I know what's going on here, but I do not understand why. Basically, you have images and you can add titles or text to them, and this helps to contribute to their system and all those shits. It's not worth talking about anymore, so if you're interested, check it out.
All in all, I would say that people who like to read erotic stories like that of literotica.com and do not care about the site looks, will surely appreciate their visit on fictionmania.tv. This place is filled with only stories of transsexuals, and many articles also contain pictures, so keep browsing and find the naughty online erotica!
Pros of FictionMania
All transsexual stories are free
Some stories have pictures
Become a free member!
Cons of FictionMania
The design looks like we're back in the 90s
The site is quite confusing, check the info page.
IndianSexStories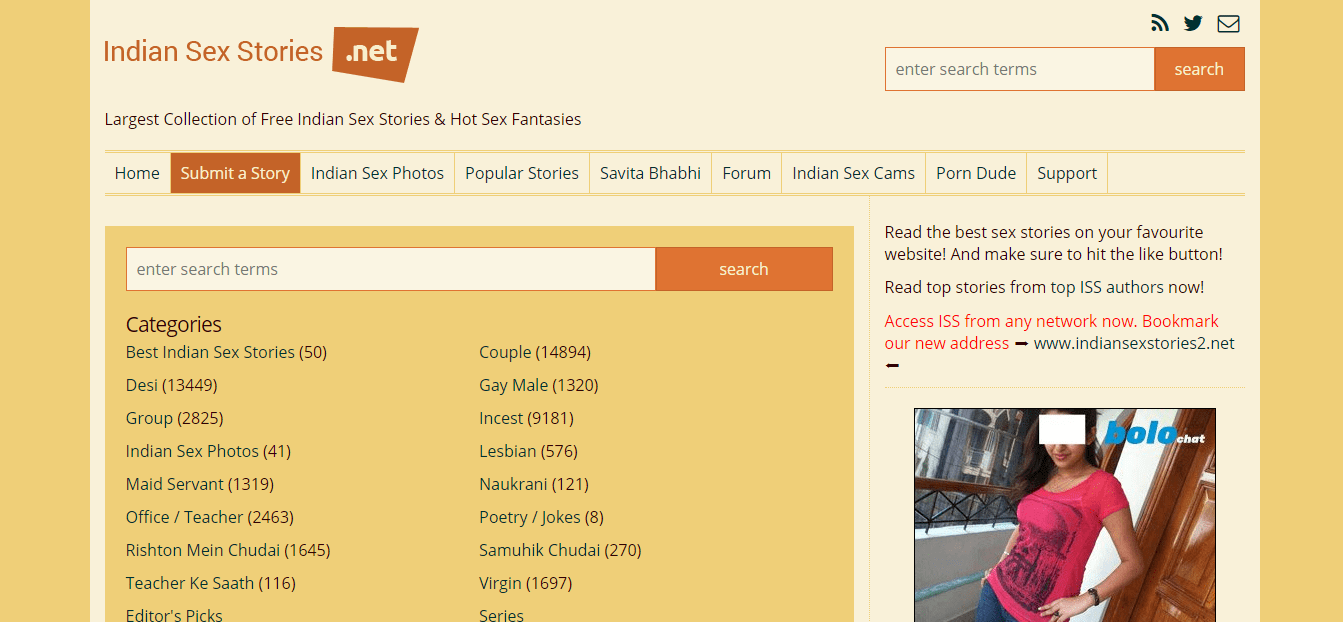 This is a fetishistic fantasy that, I did not think, has its dedicated website. Named Indian Sex Stories you guessed it, yes, it's a site that offers Indian erotic stories.
Indian Sex Stories has thousands of stories in its archive. There are more than 12,000 for the category "couples" that is to say … You will find stories about virgins, teachers, and others, gay and straight with a predominance for the hetero.
The navigation is very simple similar to literotica.com, and the stories are well presented and super readable. Pleasant to read and made by different authors. The length varies, and some stories are based on real facts. Anyone can submit their story, so if you have a talent for erotic writing do not hesitate.
Pros of IndianSexStories
Thousands of erotic stories
Directly sent by users
All Indian fantasies
Cons of IndianSexStories's
Lack of publicity (Could beat Literotica stories if promoted)
Adult-FanFiction
Well, most people tend to confuse adultfanfiction.org with fanfiction.net but what do you say; they are in no way connected.
Adultfanfiction.org is all about art and history writers; the activities involved/involve challenging people to write about various topics, to share and help others find stories that have been written for a long time.
It is a platform like literotica.com where authors do not compete only in competitions, but they advise each other. For example, there is a writers' corner where writers discuss the art of writing, which includes tips, strategies, styles and specific elements for writing adult content. Also, there is a help forum on the character profile. This forum aims to help people create a good sign or more for their stories
Discover talent here by viewing a lot of art manga and anime mainly erotic in their art room, as well as reading many original stories written by their authors. Even if you have talent in any of the sectors, participate in fun contests and challenges, otherwise, write about movies or something. In the end, there is so much to do.
Conclusion In short, if you are a willful and talented artistic mind, adultfanfiction.org is your best choice and is the best sites like Literotica. Share, view and read other artists, as well as authors, work by building each other and enjoy a wide range of available content.
Pros of Adult-FanFiction's
User support
Sorting features
A variety of erotic stories
It's an encouraging art platform
Cons of Adult-FanFiction
Banners
The tiring process is dull
The site is too full of information
StoriesOnline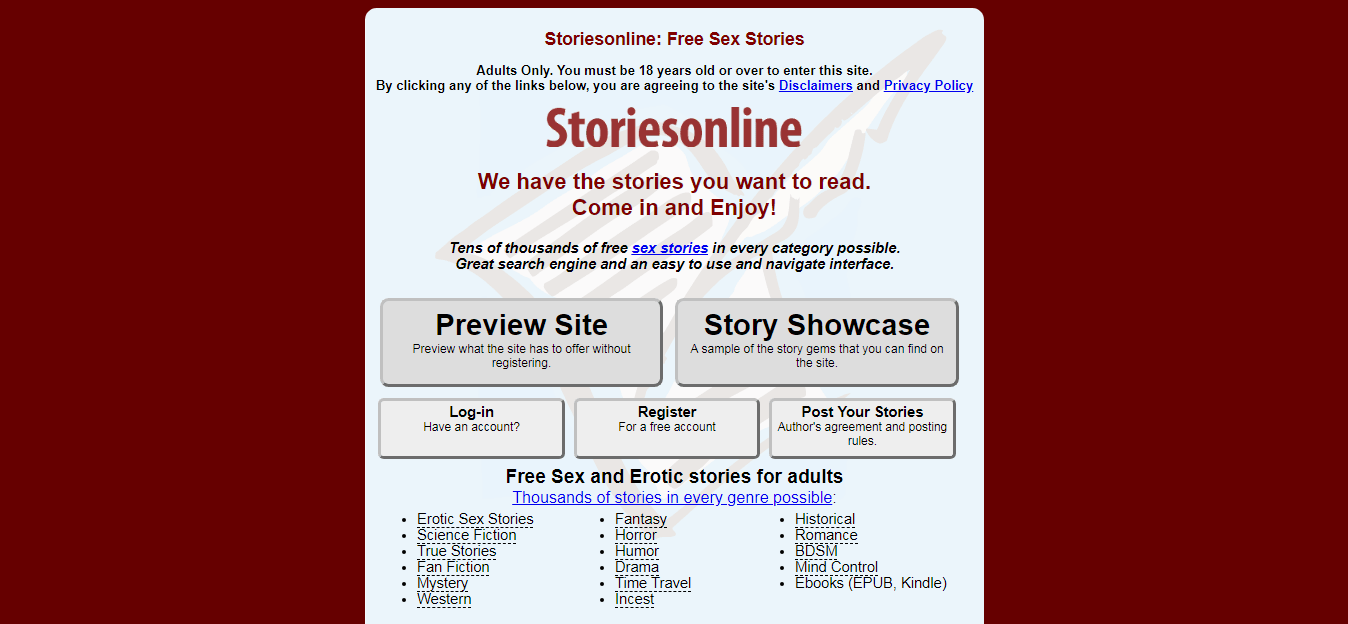 StoriesOnline on the internet! This is a very appropriate domain name! Of course, we play on the double meaning of online and net, but you already understand the principle, no? Unless you are a quiche at home. Now that you know what you will find on this site let me give you some vital information to know.
The home page has a pretty retro look, a little in the style of the 90s. It's not a problem since some people like the stuff a little vintage here. You will have a sidebar with different sections: Series to follow, Complete stories, old stories, and others. Each category has its own subcategories. For example for the category "Old Stories," you will find links that will allow you to see the best short stories, best long stories, classics and favorites of the authors. Also, you will also have access to a menu that will help you (even more) to navigate the site. There are many links to click on this site!
StoriesOnline.net is one of the biggest erotic stories sites on the net like Literotica. I've never seen before such content, and yet I've seen story sites. If you like this kind of pros (all in English), or if you are the same editor, then click on the screenshot!
Pros of StoriesOnline
Retro presentation
Full of sex stories
Cons of StoriesOnline
The display can be confusing
Everything is in English
xHamster/Stories
I'm willing to bet you did not know that xHamster had a part dedicated to the stories on his pages just like Literotica stories! Ahaha! I'm sure of that! No, xHamster is not just a porn tube with sex videos, pornstars and so on. There are many other great things. Do you like reading sex stories? So listen to me …
This is the stories part of xHamster.  You will not only find more than 4,000 pages filled with sexy stories written by many different people, but you can also change the language. By default, everything is, of course, in English. But if you want to change just click on the flags that are in the top menu. You will have access to stories in German, French, Spanish, Italian, Polish, Portuguese, Japanese and Dutch or Turkish, and many more. And, you will have a list of categories on your left, for example, sadomasochism, BDSM, celebrities, first time, humor, taboo, and voyeur.
The homepage starts by default with the latest stories added, sent by users (you can also submit your own stories if you are an author, there is a button for that) if you want to change the display click on the top rated. You can also add the stories you like to your favorites, but you must have an account for that. It's free, so feel free to sign up. More than 14 million members are waiting for you! Everything's fantastic until we hit their popup ads, I hate it. I clicked on the favorites section, the page opens in a new window, and everything becomes an ad on my current page! Shit! Who wants this? I now have to click on the back button of my browser, what a serious joke!
If you are often on the move, you can access the mobile version on your mobile phone. Nobody will know what you read since the stories have only text and no pictures. xHamster has one of the biggest erotic bookshops on the net now. Are you ready to come and discover all this erotic literature, the best of what you've seen? Some stories are true! This is exactly like Literotica.
Pros of xHamster/Stories's
Beautiful library
Some stories are true
You can send your texts
Cons of xHamster/Stories's
LushStories
If you love eroticism and want to try something than Literotica stories Lush Stories should suit you. There are many great stories to read here with a high-quality community.
On the index, you will see the latest erotic stories added with a small summary of each one. Members of the site wrote all stories and read very quickly.There are literally hundreds of pages of stories so you will have choices … You can filter them (categories on the left), so if you want stories with sexy or other female students, click on the link of the categories. You will also see the most popular stories!
If you like interactivity, there is a forum and a chat to chat, and you can also submit your own erotic stories — an excellent site, easy to use with a lot of content.
Pros of LushStories
Categories
Full of erotic stories
No need to register
Cons of LushStories
Chyoa
Chyoa.com is a site where you can read erotic stories as of www.literotica.com. In other words, you will have access to lots of erotic texts at your end. It may not be your favorite destination, but it will allow you to discover new things that you do not find on Literotica. You can read and participate in more than 7,000 interactive stories with more than 228,000 chapters. I repeat: You can join in the story!
This is an adventure book where you will need 2 fingers, 1 hand and with that, you will be treated to a happy ending. The home page starts with the latest updated stories. If you want to see what's new, you have to go down. All the writers are in the footer, and in the sidebar, you can find the story of the week, the best stories, the top chapters, and other stuff.
You can write and send your own stories, and you can search for what you want with the search function. You're going to discover a new world of reading, fantasies, and interaction.
Pros of Chyoa
Interesting concept
Good ends
Cons of Chyoa
TheKristenArchives
Personally, I have always thought that erotic reading stories, instead of watching real Literotica videos, was reserved for thoughts.
First of all, I only enjoy HQ video production, and that also includes high-quality erotic stories, so if this site manages to interest me, it will interest you as well. When you open the site for the first time, you may be a little confused; we are no longer in the 90s, and the design of the site does not help.
All you have to do to see all that this site has to offer is just scroll down and up … I guess the basic menu button creation was "too cool" for them. Anyway, the site is at the top, where you can learn more about how it all started. However, I must add that they could have done better with the introduction of their site, because it does not really make me want to read the stories.
But you do not have to worry about that; the creators of the site are not the authors of the stories. The reason this site is called "The Kristen Archives" is basically because of this girl who was apparently a little too lonely (if you ask me), because she had time to gather all these erotic stories, presumably in 1997 (that's what they say). I mean, you have over 15,000 stories + picture archives to go through, and the reason I suppose it's been a bit too long is that the majority of the stories here are in reality of high-quality content.
Honestly, I would not be surprised if I already lost half of the audience (let alone if they were all "offended"), because here you have to use your "imagination," which is not the case for many people. The first thing you will be offered is a bunch of stories, all of which are sorted into directories, which makes navigation easier.
If you are, in fact, a thinker or a young girl, then you should consult the "Kristen Board" where the site community can talk about her "feelings." Honestly, who still does that? Other than using this forum page for site problems and other similar crap, talking about what you just read is very delayed, in my opinion.
If you scroll down the screen (since that's all you can do here), you'll see other features offered by The Kristen Archives. For example, you get a special section for resident writers, site features, and more. I would recommend this site is like Literotica where you visit the sites they have classified as "favorites" because I have opened two (but not all, of course, no one has had time to do so), and the ones I have Open were surprisingly not bad at all.
My personal favorite suggestion was a site full of fiction fan stories only. I mean, this site had a bit of everything. I mean, what more to ask a person than a good story with your favorite characters, is not it?
Categories cover all types of content; celebs, perverted Asian fantasies, or even swinger stories. You could say that they pretty much covered most of what you might expect to read in an online erotica, but if you are one of those "special" who is not satisfied with literotica.com, use somewhat the search field, instead. Although at first, I said that this site was not so bad based on a story, no one can live.
Pros of TheKristenArchives
Many free erotic stories
Other great site suggestions
Basic categories facilitate research
No ads or pop-ups
Cons of TheKristenArchives
The design is basically 90s
Always scroll
Some stories are not edited
SexStories
Welcome fans and authors of erotic stories! Do not be surprised by the retro and cheesy design. There is a reason for this strange design, the site is the property of XNXX and we know how much they love this blue color. So as I told you, SexStories is a platform that welcomes everyone: writers, fans or anyone who loves erotic literature!
It's a bit confusing when you are on the homepage. They explain the operation of the site: a large collection of erotic texts and sex, it's quite simple to navigate, no ads, and everyone can put their own text online, free. Below these explanations you will find the main sections of the index: the top rated stories and the latest added (for 30 days).
Each addition has its own tags such as dark fantasy, bisexual, group, young and old women over 60, mind control, female domination. Some of them are identified as "True story"! For me it is this most important tag. Here, these are examples, for you to use the sidebar to see everything, you will find here the genres, themes that will suit you. You will know how many stories are available for each theme. There are hundreds of thousands of stories available, it's like paradise…
Go down a little to reach the section that covers the latest stories added, the best (of all time), the most read, the least read (I like that they also give their chance to those), the less well rated (similar) or those that have not yet received any rating (you may be the first to note).
If you are a writer and want to post your sexy stories, sign up and follow the process (you will find the dedicated button in the top left corner of the site). It only takes a few minutes. I'm a writer in my spare time but I will not send anything on the site but I only do on www.literotica.com. I do not want to devalue the work of others, my stories are so good. I only write for my site!
SexStories is great, one of the best sites in this category. If you want taboo stories, erotic texts or hard, if you want to discover the sexual adventures that can happen to people, visit the site! You will not be disappointed!
Pros of SexStories
Filled with content
They put your stories online
Full of different genres
Cons of SexStories
The design all rotten, grrr!
ASSTR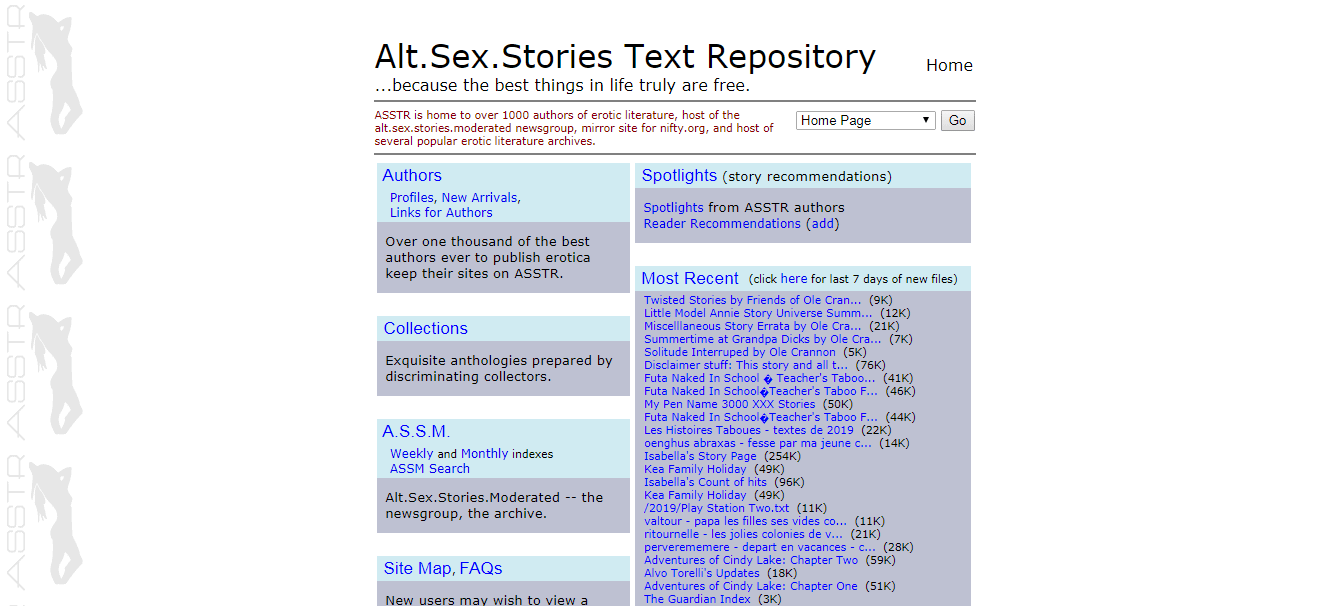 By seeing the name of the site I thought of falling on a site with beautiful women! But I was wrong! Asstr is a site of erotic stories like literotica.com. Once you have passed the disclaimer you have a list of the latest stories added.
If reading stories is your thing then here they are free and sent by users. Find a story with a title that you like and go. If you click on "Collections" you will have a kind of list of categories with for example: Asian stories, Humiliation, Anonymous mails … etc.
There is also a search function on the home and a drop-down menu with the most downloaded, resources for authors and other stuff. Maybe you will send your own story?
Pros of ASSTR's
Cons of ASSTR's
Nifty
I have always said that the world of erotic stories is underrated by people. There is a real pleasure to read stories with fantasies that cannot be realized in real life. Today I discovered Nifty.org and I must say that it quickly became my favorite site after Literotica to find nasty stories.
The site is super old, it has been around for over 20 years and has more than 200,000 stories. There are about 10,000 authors who offer you the best of erotic literature. The site is updated very frequently with news and you will find beautiful and super horny stories.
Nifty offers plenty of alternative stories for Literotica stories and the biggest category is "gay". They also have bisexual, lesbian and Trans if that tells you. There is also a special section where you can read stories not found elsewhere.
Pros of Nifty
Hundreds of thousands of stories
Free
Cons of Nifty
Presentation is a bit old
History-Erotic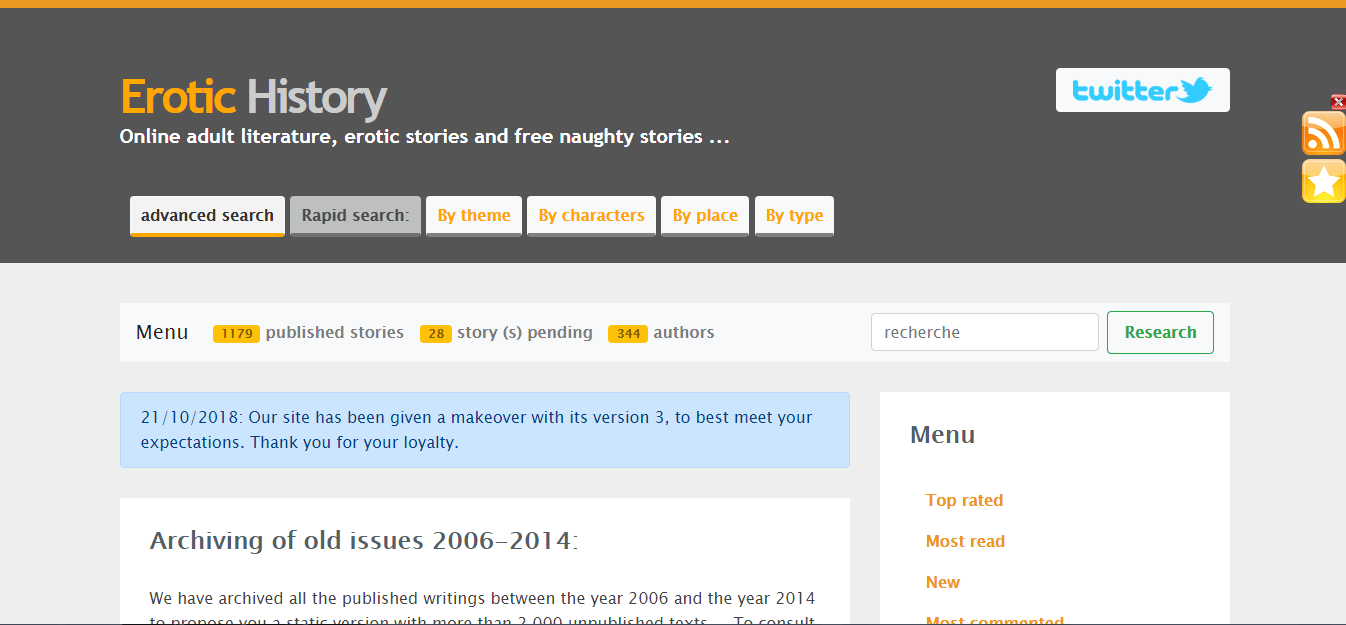 As I always like to say, we are all different in what makes us hard, so even if I'm not a fan of sites with erotic stories, that does not mean that I will not make an objective criticism on it. That's why I'm here to help you discover the French site histoire-érotique.org, I'm sure that those who enjoy reading Literotica stories will appreciate this site.
Since this site is quite natural, I do not think you'll have any problems with navigation, unless you visit an erotic stories site for the first time… in this case, you are either too young, or you live in a cave. Personally, I cannot empty myself on such stories, I need to see real Literotica videos rather than just read stories.
After, I'm pretty sure most people who read these erotic stories are lonely women who try to look pretty with no makeup and have nothing better to do with their lives. You could even read these for the story and not for fun, and frankly it makes it even weirder. Anyway, I'm sure you'll find a lot of different stories that you'll enjoy here, and I'll tell you everything you need to know about history-erotic.org.
The home page and the look of the site are basic, I cannot say anything good about it, but as far as I have nothing negative to add … so let's stop on "the design is completely dull". At the top you will have all the options you will need with filters on the side that you should also use.
You can choose to search for stories by location, type, characters, and theme. On the side, you can filter the search by the most popular, the best rated, the most commented, the most recent, by best authors … basically, the usual crappy of this kind this site. When you click on the top suggestions, you will have a menu from which you can choose what interests you.
After, my only criticism here is that the menu offers important things but everything is written in a small font … I almost had to come up to my screen to see the font they had written, and it pisses especially when the rest of the site is giant.
The search options you have are pretty basic, but they should be enough to help you find you want to read. You can choose categories like fetish, couple, trans, interracial, mature, etc. There is also an option to choose where you want the story to unfold; like at the office, at work, or in an elevator. As I said, I think the search options will be enough to help you find the naughty stuff you want to read.
In the last menu, there is the "type" of history, you can choose between three different types; fantasy, true story, and romance … when I searched these options, I realized that their menu was messed up on several points. For example, when you click on the buttons at the top, the first two work perfectly, but the other two are denied. You will not be able to click on anything because it closes as soon as you try…
So I'm wondering who is the genius who missed this mistake. I do not want to offend anyone (I do not care anyway).
Anyway I'm sure you're here to take a look at the stories, and not to talk so much about design, and I just read some stories just to be able to say what to expect. What's great is that it's a French site, so you can't understand anything unless it's translated. Most erotic sites are in English so it's a good change.
Each story will tell you the theme, the characters, the place, and the type, which will help you decide that this is the story for you. These are all stories written by members of the site. On the side, you have an option to sign up or login, and you can do that for free, which is nice. Once registered, you can post your own Literotica stories and comment on those of others.
The stories I read are mostly fantasies where a lot of weird stuff was going on. From aliens to more realistic stuff where your favorite characters can enter your dream world kiss you to death. Everything depends on your preferences, and although I'm not a fan of erotic stories, I still found some interesting than literotica.com.
I'm sure if you like to read erotic stories, and if English is not your strength, you'll enjoy the stuff on history-erotique.org. This site is filled with stories in French, and there are quite a few, not to mention the fact that you can create an account and post yours if you want.
Pros of Erotic-History
Many free erotic stories
Write your own stories and post them on the site
Cons of Story-Erotic
Ads
Some features of the site are dull
The site is French.
Stories-Of-Gender
Sex Stories is fully filled with content created by users. And even if the majority of stories are ranked X you will discover, reading this review, that there are also other topics. Everything is written and available in French and I must say that it is a real minus point. That said you can also give the link to your correspondent in the US, it can be translated into English… The site welcomes you with a photo of a sexy girl, completely naked, lying on her back, legs crossed and breasts covered by his hands. That sets the tone for the site.
Right to erotic stories. There are so many, impossible to read everything. They are displayed from 2017 to 2003, yes in that order. I have not seen any article added in 2018, it is a little strange all the same. Is the site abandoned? That being said, you still have something to do with all the stories that are available here. The stories are well sorted and it's very easy to navigate from one year to another or from one type of content to another.
Click on a random month and you will have the complete list instantly displayed. I can see some translated stories, sometimes a little awkward, but the essential is there, heavy! I read a story in particular, written by "Basleg" in July 2017 and it started like this: "The heat s' fell on that day in July, already 7 years ago now. The girls were beautiful, most skirts with their legs unveiled, revealing hidden treasures to those who know how to look where it takes … "We can clearly see that it will go into a spin …
In addition to being well ranked the stories have a list of tags, and that we like a lot. It allows, besides choosing the same style of story if the one you read you liked, to know a little what it speaks. The one I read had, for example, the tags "holidays, fellatio and coarse words" can directly know what it speaks in a few seconds…
Still about the stories, we were pleased to see that there were plenty of options to display the stories, we can sort them by date, by author, by sexual orientation, the most commented, the latest uploads, the most read. You will definitely be on top and end warm with all those words. You can even read these stories in the subway with the mobile version, painard, in Châtelet next to granny…
There are hundreds of authors on this site and we can display all the work of each of them. You can see the complete list by clicking on "Authors" on the homepage. You can then sort them by alphabetical order, sex (there are male and female authors), the most prolific, those with a profile picture. Some have written more than 20 stories. You too can become an author if you have an easy pen. For this you will need to register to be a member of the HDS community. In addition to being able to write your own prose, an account will allow you to give your opinion on the stories of others and to have access to your "personal space". Registration is completely free and takes just a few minutes…
There is even more animation in the small ads part of the site, this is where users and members give way to their fantasies by putting online ads (sometimes with Literotica videos) super-hot. We can find the following topics: Gangbang, Bukkake, Domination, Extreme Sex, Sexual Positions, Inserting Object and many more. Even if each of us has different desires and fantasies, the ultimate goal is the same: pleasure. You'll find some really cool stuff, and really hot stuff like www.literotica.com. I could see for example a guy who was looking for a hottie 40/50 years for a contest, his wife no longer love to cut pipes since they had 2 children together…
In addition to small ads you will also be entitled to a full section of Literotica videos. In the end it's like a porn tube, filled with videos. You can sort videos by categories. You will have the choice between young beautiful black women, Spanish, and much more. The videos are in Mp4 format and in Full HD quality. You also have a preview of super good quality. By cons you cannot see them directly on the site, no streaming, it will download directly to your computer. I saw a video which was almost 1 GB.
There is not much else to say, the design is simple. That being said, the navigation is super simple and easy to understand. The transition from one section to another or from one story to another is easy, it's great!
The experience is just perfect, there is almost no ads, the only ones I could see being in the section classifieds, and discreet.
In the end Stories-de-sexe.net is a great site for those who love the stories horny, varied, and well written. There are plenty of prose available, in every conceivable category. The authors are quality and numerous, several hundred. A site to really not miss if you like this kind of content available on sites like Literotica.
Pros of Stories-Of-Sex
Thousands of erotic stories to read
Niches and categories
Perfect user experience
Hundreds of authors
Cons of Stories-Of-Sex
No story posted in 2019
No video streaming
XStory-EN
The site of erotic stories! Well, it starts to smell right from the beginning this story. You feel directly the excitement that rises, finally, at home I mean, you I do not know but you should. Xstory-fr.com is a site that has existed for years, since 1999 to be exact, an eternity on the internet scale! As the name suggests this site is filled with erotic stories written by real writers or amateurs. It is a place of exchange with a real community where people who like this kind of content come to talk to each other on the forum.
From what I could see it seems to me that there are many women with tattoos on the site, but maybe I'm wrong, but the profiles on the forum still look very feminine, even if some can be guys who pretend to be women with emo hair, a gang of little rascals! After that seems normal to have many more women, this kind of content is known to please more women than men, but I still like it. We can say that it is born for women but not exclusively for korean women, we will say that…
What I like about this site is that it is fluid, clear, and clean. What I mean is that in addition to the stories we can also find a webcam section and a dating. I can tell you that at the time of writing, there are more than 2,252,230 registered members! Yes! Almost 2 million and a half! Amazing no? We are at least sure that we will not end up talking to robots like "Ashley Madison".
I like to see erotic stories with images, I like to read stories with mothers-in-law, daughters-in-law and it speaks of beautiful little smooth. I do not want to have to imagine the scene too much, I need concrete! This is what I like in this kind of site, the fact of being able to make a "film" by having images that propagate in our mind and which are mostly different for each person. It takes imagination, and of course everyone does not think the same, which makes these stories all the more interesting. X Story is a site entirely in French with an unthinkable collection of stories available. We can find categories, straight, trans, everything is possible. You will read trash stories, incest.
Sorting the stories is very simple, and that's cool. They can be classified by longevity, notes, authors, date of addition etc… It is so super easy to find a new story to read. Each story can be liked or not, you can vote according to your feelings. You can write a comment or even a suggestion addressed directly to the author. It's really great! I read some stories and I must admit that I found them super well written and exciting like Literotica! I was able to create a whole imaginary around the text that I read… These are sensations that we find only here. After I also came across some pretty bad stories, you have to be honest, there are so many choices that obviously not everything is fantastic. But it'
Another thing that I really liked about the site is the writing classes. Everyone does not know how to write a story and there you have the basics (and even more) to get into this challenge. How to find inspiration, how to write an introduction and a conclusion without being mistaken, how to know everything about this art and become the Victor Hugo of erotic history (or almost). And of course there is also the community, the site being online for 20 years, it is obviously necessary to speak of all these people who give the state of mind to the site.
This community involvement in the forum, the number of open topics and the answers to it can be appreciated. It also helps to realize that many women with couple tattoos (in any case here) are quite "open" minded, and you will revisit your judgment on female sexuality. We can, for example, find women with mehndi designs who claim to have as fantasy the fact of being fisted… I did not think I read that one day! Like what!
To get the most out of Xstory-fr.com's experience (often misspelled as "x-story") I suggest you sign up. Registration is completely free, like the www.literotica.com. Nothing hidden, no scam (that's good), you choose your nickname and go! Start interacting with other members of the community, remember that the main theme of the site is eroticism and stories. Of course there is sometimes a bit of hardcore but mostly soft. In the end we can talk a little about everything on this forum and that's what is super nice. We talk about everything and nothing, in a relaxed and sexy atmosphere. It feels good to find places like this today! A super cool site with a concept that still works 20 years after its creation. The design has not changed too much since the beginning but it is not the most important is not it? For you to discover this great site … You will love!
Pros of XStory-EN
Super community
Nice forum to chat with members
Cons of XStory-EN