Consider These Things While Purchasing Domestic RO Water Purifier
July 1st, 2019 by Catherine Marqueses
Shortage of drinking water and lack of purity is a measure issue for every homeowner; there are daily hassles of managing pure drinking water. People use to prefer buying packaged drinking water and spending lots of extra money on that, but all packaged drinking water is also not giving purity. So don't believe blindly on so-called packaged water manufacturer brands. In place of storing in jars or buying packaged water, everyone should try domestic water purifier for your home and offices as well.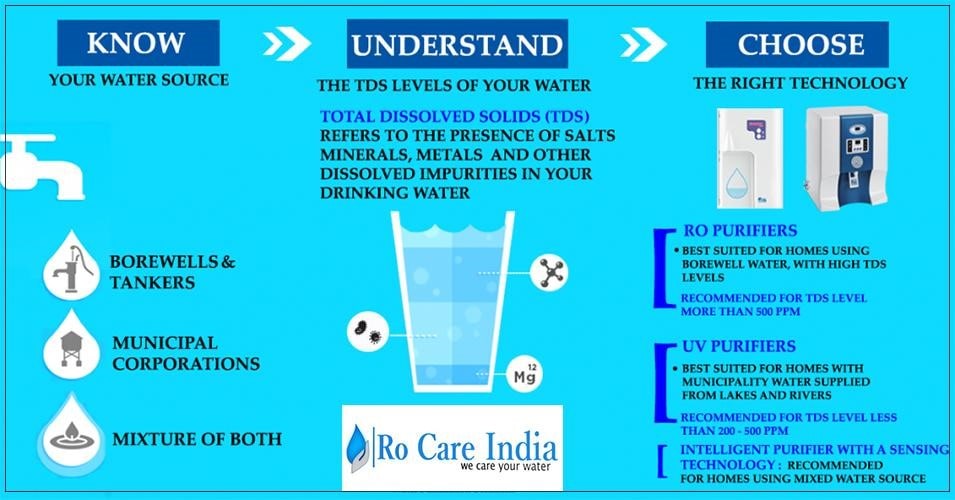 By using domestic water purifier, you can save money, time and effort as never before at an affordable rate. Time to change the mindset and move to buy a safe and smart domestic water purifier, which eliminates most of the worries related to drinking water. Getting started is an easy task as a call on the registered number of the service provider and get your favorite purifier at home. Just one phone call takes away all your worries related to drinking water and you only for what you drink as very less compared to packaged mineral water.
Comparison between packaged drinking water and RO water
There is no comparison between water jars or packaged drinking water to the established RO water purifiers. You can save your money per liter of water with assured quality and brand warranty. RO water naturally a Raw Water Treated through a particular process called Reverse Osmosis which quickly eliminates suspended impurities and dissolved metals. This is like a pressure filtration method to screen out every fine particle dissolved in the water through a delicate filter membrane. It is proved to be very useful in the treatment of municipal as well as local water supply.
When someone buys bottled water as Mineral Water, they consider it purified and free from all the impurities. Treated Bottled Water tastes different from raw groundwater because manufacture added some minerals in it which is not present in the natural water. But it is actually, technically called as Packaged Drinking Water because it is sealed in a bottle and always check the seal before buying it. It has a separate standard for it where minerals quantity printed on the wrapper of the container. But, don't blindly believe in it because some local manufacturers are not checking the minerals after packing.
Here some points to noted that in RO water purifiers minerals are retained not added from outside but in packaged drinking water manufacturer adds some essential minerals in it which also improves its taste. Research filter technologies like RO, TDS controller technology before buying. In the RO purifier after raw filtration water in much lesser amount is added, which further increases the number of minerals then again water is passed through the UV chamber to remove all micro bacterial impurities and heavy metals.
Conventional methods against RO water plants
There are some traditional methods are also there to purify polluted water as they are using sand and mud pots to clean it. Different sand layers are used to purify groundwater, but it doesn't eliminate all suspended impurities like microorganisms and heavy meats. It only excludes mud, straw and plant bodies and after that, they use to boil at 100 degree Celsius. In the modern world, people use to purify through domestic RO plants. RO water purifier uses Reverse Osmosis technology to filter contaminated water in a contemporary way. RO water purifiers have a semi-permeable membrane which allows passing water from it.
This membrane eliminates all the fine impurities and bacterial cells from the water
The delicate pores which are not seen by our naked eyes and that are fine enough to remove metals, chlorine, and other heavy metals from the impure water. RO water is safe for drinking as it is passed from multiple filters and membranes. However, all domestic water treatment plant is not able to maintain minerals in it during filtration. You have to check the filter regularly to ensure the continuous supply of pure and safe drinking water.
The earth's surface contains roughly 70% water, but only 1% can consume, rest is either salt water or found in different natural water bodies. Even such a small quantity of water is suitable for consumption, but people are continually contaminating physical water bodies and making it hazardous to drink and somewhere disappearing quickly. The level of contamination reached an alarming level and that it has become impossible to get fresh and pure drinking water in several areas. Human-made chemicals and overuse of plastic make it dangerous. Domestic water treatment plants are the safest way to purify polluted water.
Contaminated water leads to several health issues as almost half of the total diseases appear due to the consumption of impure water. It can be life threatening at that time, and people prefer to drink packaged drinking water. To get clean and safe drinking water, many people opt for either packaged bottled water or install a domestic RO water purifier. However, the question instant remains which water is safe to drink either bottled water or RO purified water.
Interesting Articles