The 5 Best Matching Couple Tattoo Ideas
January 18th, 2019 by Brown Traci
Couple Tattoos: Couple's tattoos have been gaining new popularity as the art form itself gains wider public acceptance. Now, it's not uncommon for two people to get some ink that matches their significant other or a piece that commemorates their relationship together. Here are five of the best types of couple's tattoos that you should consider getting.
1. Your Anniversary
What could be more important than the date when the two of you first made things official? A tattoo is a great way to always remember and show off the day that you got embarked on your loving journey together. This can take a lot of forms such as numbers, roman numerals, or some other way of demonstrating the significance to you. No matter what, it is a wonderful way to commemorate your anniversary and you never have to worry about forgetting it in the future!
2. Keep it Simple: Use Your Names
The act of putting someone else's name on your body is incredibly intimate and shows a high degree of trust in one another. In some ways, it shows that their love will always belong to you and vice versa. Of course, integrating their name into a design is probably the best bet because you don't want a comic sans version of your significant other's name on you. Have some fun with it or make it completely serious; either way, it's a great idea.
3. Get a Special Symbol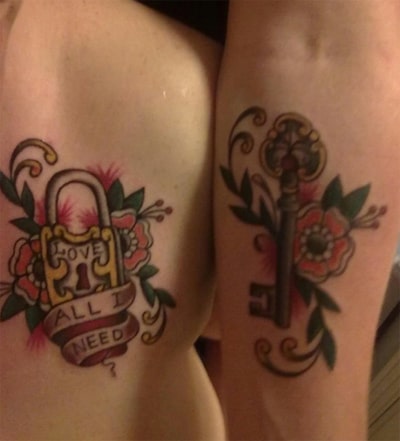 There are a lot of little things that go into a relationship that can't be seen from the outside. Whether it is an indicator of your screen name from when you met on websites like Quickflirt or an anchor that shows how you keep each other grounded, a symbol is a great way to get inked together. Your love doesn't have to be obvious to everyone that sees the tattoo, but the sight of the tattoo on your partner and on you will be a constant reminder of why you love each other so much.
4. Try Getting a Matching Tattoo with Significance
Another great idea for a couple's tattoo that is receiving more attention these days is each person getting the same tattoo that has an outside significance. If the two of you are heavily involved in your church and want to symbolize that, you could always get a cross together. Likewise, you could easily opt for a tattoo of something like a sports team that you are both fans of. The choices are endless!
5. Half-Finished Tattoos
If you want to symbolize the idea that you are half of a whole, then using a half-finished tattoo is the perfect way to do so. You can have half a broken heart on your hand that is only completed by the heart that is on your partner. Again, these can take a lot of forms or even be combined with the aforementioned ideas, but the significance is hard to deny. Of course, you might have to answer more questions about this form of tattoo compared with any of the others that you might get.
Overall, there are a lot of ways to use couple's tattoos to show off the greatness and depth of your relationship. These five ways integrate some of the most common and best ideas for tattoos that anyone could use to customize a tattoo just for them. All in all, tattoos are a great way to show off your affection for one another.
Interesting Articles: